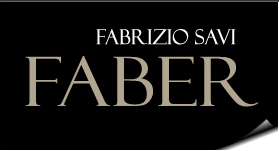 Fabrizio Savi
Fabrizio Savi's creative phases are constantly confronted with the social aspect, not only that of the local territory, but in a broader, more transversal, and almost prophetic perspective, within a global context.
The themes directly or metaphorically addressed by the artist, arise from the deep conviction that every human activity must be aimed at improving living conditions, equitable distribution of resources, and respect for human dignity.
All his work, both in the sculptural field and through the new languages of computer art, focuses on a profound reflection that ranges from topics of geo-politics, human history, and collectivity both past and present. These are the considerations that lead him to a severe criticism of power as a deprivation of man's freedom.
Barbara Vincenzi
Fabrizio Savi
Entering the soul of Fabrizio Savi means meeting and getting to know an ethically and socially committed personality, capable of dealing with sculpture, design and the languages of computer art, of having an open dialogue with different expressive codes.
The languages he has used throughout his career, mark stages and milestones that are ideally linked between one another. While moving from sculpture to design, to computer art, with an apparent disconnect between one discipline and the other, nothing is ever truly abandoned, but instead skillfully revived even after many years.
In this latest cycle of sculptures, created between 2020 and early 2021, Savi resumes the research begun in 2006, when the series of terracotta and silver leaf busts was born, the sculptural groups called Evanescenti luci alla ribalta ("Evanescent lights in the limelight"), made in different sizes and materials, a real immersion and exploration of the theatrical concept.
My guidelines
Fabrizio Savi
More and more often nowadays, artistic gestures dissolve into citations of forms and experiments already seen in the past century. Renaissance-style works, stained or cut canvases, installations and digital animations. The massification of art has, on the one hand, made wonder accessible to anyone, on the other however, it has lowered its cultural level to the point of repeating already implemented experiences, now devoid of value or creative energy.
So, what's the meaning, the cultural entity, of a present-day artwork?
Do we risk falling into anemic Mannerism, in a replica without impact, without effects on the observer!? The socio-cultural framework in which we live gives us an increasingly poor scenario. Exteriority prevails
over substance, presumed abilities exceed actual skills, and appearance ends up becoming essence.
This pushes me to rebel, to pursue a new meaning in the aesthetic gesture, declining it in terms of dedication and professional skills.
It is no longer enough to call into question poetic, inventive or visionary qualities – a legacy of the last century – or even just technical-scientific properties, innovation cries out for a fusion between these forces: the aesthetic-creative aspect must merge with social commitment.
Now more than ever the actual skills of the artist, sincerity of purpose, and real dedication can take on a prominent role in society, they can provoke sentiment and inspire trust. And, as far as I'm concerned, they can restore a renewed sense of creative doing.
Fabrizio Savi 2015
Curriculum
Fabrizio Savi lives in San Severino Marche (MC), where his private studio-atelier is based.
He approached sculpture at a very young age, tackling issues of social criticism. These were the years of the Academy of Fine Arts of Macerata, during which he studied sculpture and where he faced the new languages of computer art, and the new alphabet linked to the beginnings of technology.
An important showcase for Fabrizio Savi was the invitation, in 1986, to the fourth edition of the Camerino Electronic Art Festival, with his interactive work Halley. At the time, this festival was the most important and complete review of electronic arts in Europe. The Camerino Electronic Art Festival was a key place from 1983 to 1990, for the interaction between art and new technologies. The Babytland project, presented in 1991 at the Artemide Theater in Rome (curated by Rinaldo Funari and Elio Atte), will win him a scholarship in Frankfurt in 1992 at the Institute for New Media directed by Peter Weibel.
Upon his return from Frankfurt, he sensed that the initial enthusiasm of the new electronic medium had waned and, upon careful consideration, he experimented with Design, another passion of his, obtaining considerable results and filing two patents; at the same time continuing new series of sculptures. In the 2000s, he designed the sculptural groups called Evanescenti luci alla ribalta ("Evanescent lights in the limelight"), made in different sizes and materials, a genuine immersion and exploration of the theatrical concept. The following year, he designed a multimedia system with interacting sounds, music, lights and design. He is currently carrying on the research started in the Eighties, in which he linked sounds, music and digital art. During these last few years, he has been making design-sculptures accompanied by a luminous support. His latest work, still unpublished, picks up a project from several years ago, completed in some important phases; in which he experiments with the distribution of sound not only at a temporal level, but by exploring its propagation in space.
---